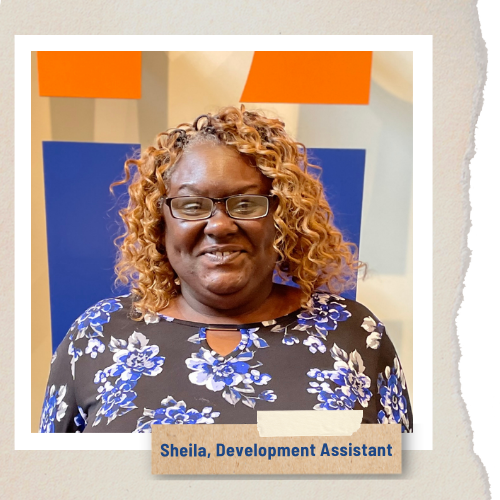 Sheila grew up in Chicago with her parents. They were a successful upper middle-class family. Both of Sheila's parents worked full-time while she attended the number one high school in the state of Illinois. After high school, Sheila attended Malcolm X College and then the University of Chicago where she earned a degree in Marketing and Finance.
"I always wanted to wear a suit and heels to work, and come to find out, I did not want to be a bank teller," said Sheila.
So instead, Sheila began work in the medical field. First as a Certified Nursing Assistant then as a monitor tech and phlebotomist. She worked full-time to pay the mortgage on her her where she lived with her mother and four children.
"I had a regular life. I could do whatever I wanted to because I knew if I ever needed anything, I just had to work extra hours or pick up a part-time job."
At a regular doctor's visit in February of 2016, Sheila's doctor gave her a clean bill of health. Two months later, while Sheila and her friends were on a trip to Nashville, she began to feel sick. She asked a friend to call an ambulance. It was in the emergency room that Sheila found out she was having a heart attack. After surgery and a brief ICU stay, Sheila left the hospital -- $1 million in debt and unable to work full-time. By September, Sheila had no source of income and had been denied long-term disability.
"I had to live off of what was in the bank, the sale of the house, and whatever my family gave me. I gave away everything besides washer and dryer, my books, and my dishes. Basically, now I am starting over."
It took two years for Sheila to receive low-income housing assistance, and recent adjustments to her medical benefits have left her with some difficult choices.
"When it comes to medical, I'm pretty much on my own. I used to be on 26 medications. I probably take about 18 now. What we had to do was go through my medications and figure out what I can live without." Sheila's first visit to a food pantry was a couple years after her heart attack.
"I never thought I'd catch myself in the food line. I'm always on the other side volunteering. But now, here it is. I'm actually in this line."
And yet Sheila is always assured that her family will have food to eat, including her one-year-old granddaughter, Miracle. Miracle was born in August 2020, in the middle of the COVID-19 pandemic. Sheila became Miracle's legal guardian when she was just three months old.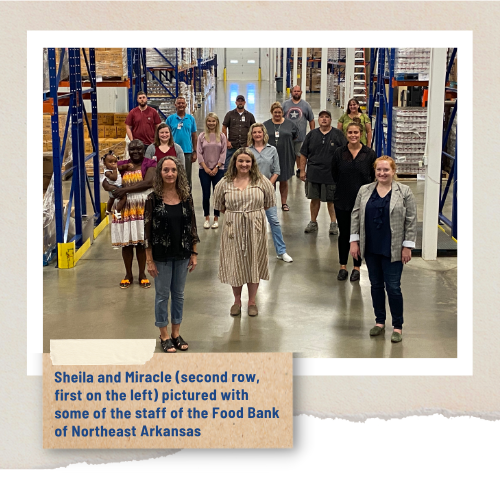 "I had to make a choice -- and this is where you figure out how strong of a person you are. I had a few problems with WIC because I had not adopted my granddaughter at that point. And I wanted to adopt her. That means I need to maintain a household; I need to maintain employment. And I realized I need to go back to work and so that was my choice."
That choice brought Sheila to the Food Bank of Northeast Arkansas. She began working with the Food Bank in December of 2020 through a temporary staffing agency. In April 2021, the Food Bank had an opening for a part-time Development Assistant. Sheila was a natural choice because of her skills and the fantastic work ethic she modeled as a temporary employee. Sheila is also a full-time student seeking a degree in Psychology with a minor in dietetics.
Life for Sheila now is very different from what it was five years ago, but Sheila won't be down for long.
"Just because this is my situation, this is not my path, nor will I allow it to be my future."