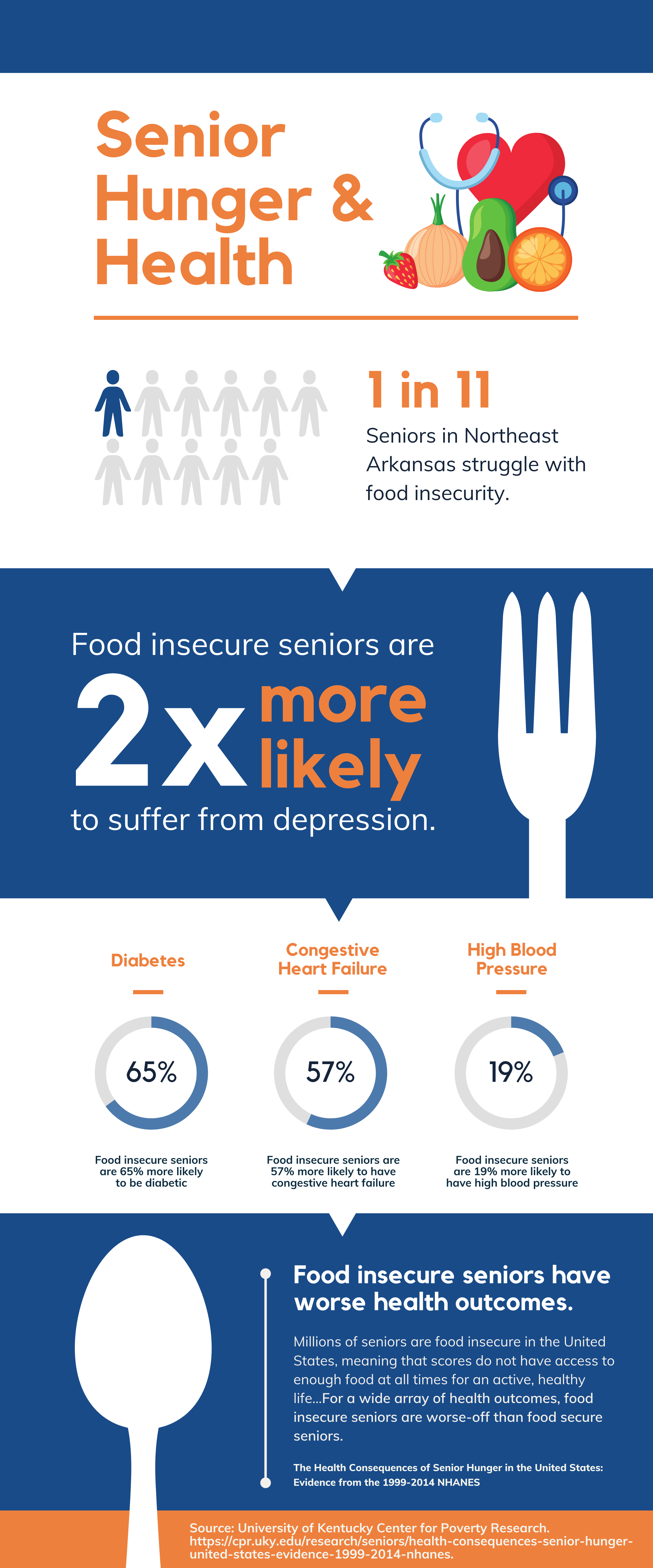 Senior hunger has long been a priority for the Food Bank of Northeast Arkansas. After years of struggling to fund a senior food box program that served only 200 people, the Food Bank realized change was needed to meet its goals addressing. In 2013, the Food Bank of Northeast Arkansas and the East Arkansas Area Agency on Aging formed an important partnership to reduce food insecurity among senior citizens in Northeast Arkansas. Through this partnership, a network of food pantries was created in Senior Citizens' Centers throughout Northeast Arkansas so senior citizens can access supplemental food.
The Food Bank now serves 1,483 seniors each month.
The Food Bank partnered with the East Arkansas Area Agency on Aging because of the combined ways our organizations could serve senior citizens -- feeding their mind, body, and spirit. "We provide all types of activities that they do every day," said Donna Horsley, Site Manager at the Harrisburg Senior Life Center. "Whether it be exercise, socialization, games, just any type of socialization. And seeing how happy they are just to be out and about and to be able to socialize again. That's probably the best part."
The supplemental food provided through the Senior Food Pantry Program allows seniors to use their limited resources to pay for medicine, housing, utility bills, and other basic living expenses.
"A lot of them don't have enough money to supply for the rest of the month so that's a good thing for them...it helps them finish out their month," said Donna.
Many senior citizens live on fixed incomes. This can sometimes result in seniors choosing between food or medicine. Sometimes they simply choose to go without.
"A lot of times our seniors will do without food to purchase their medication even though they have Medicare," said Milissa Gentry, County Administrator for the Lawrence County Department of Human Services. "Sometimes just getting their medication -- they have difficulty doing that."
When seniors go without adequate nutrition, their health takes a toll.
"They have weight loss a lot of times. You'll see them looking really frail and they're just not purchasing enough food," said Milissa.
According to The Health Consequences of Senior Hunger in the United States: Evidence from the 1999-2014 National Health and Nutrition Examination Survey, seniors facing food insecurity are more likely to have diabetes, high blood pressure, congestive heart failure, and asthma. They are also more likely to have experienced a heart attack, suffer from depression, and report one or more Activities of Daily Living (ADL) limitation.
Through the Senior Food Pantry Program, the Food Bank provides 1,483 pre-packed food boxes to the senior centers each month. The boxes contain nutritious shelf stable food, nutrition information, and recipes.
A complete list of Senior Food Pantries can be found at www.FoodBankofNEA.org/senior-food-pantry.