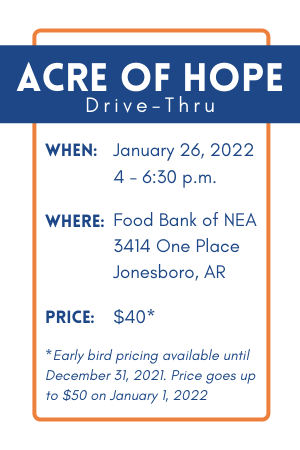 Acre of Hope 2022
Join us for Acre of Hope 2022 Drive-Thru style on January 26th, 2022. In lieu of our typical in-person event, we are selling steak dinners that can be picked up at our facility at 3414 One Place in Jonesboro on January 26th between 4-6:30 p.m.

Take advantage of our early bird deal before December 31, 2021!

Each purchase enters you into a sweepstakes for two prizes valued at $500 each.
Dinner Menu:
Ribeye steak, hot rice, baked potato, corn on the cob, and Texas Toast.
Sponsorship Options:
Harvester ($2,500), Cultivator ($1,000), and Pivot ($500) sponsorship are still available. Learn more about sponsor benefits here. Claim your sponsorship here. Contact Jordan Griffin at 870-932-3663 ext. 113 or jgriffin@foodbankofnea.org for more information.
---