---

Letter from the CEO
When the Westside High School Air Force JROTC cadets started serving at the Food Bank in 2018, I doubt they could have imagined that they would help provide more than half a million meals to people facing hunger in their very own community.
It's incredible to think about the impact these young men and women have had just by showing up month after month, year after year. Their persistence and dedication have created a tangible effort for many families in Northeast Arkansas.
They gave what they could when they could and, in doing so, have given hope to people facing hunger.
Mother Teresa said, "If you cannot feed a hundred people, feed one." I encourage you to give what you can, when you can. No matter how big or small it may be, because it is those acts of kindness that culminate in a world of difference for those in need.
With Gratitude,

Christie Jordan, CEO
---
Each month of the school year, 30 or more cadets from the Westside High School Air Force JROTC come to the Food Bank of Northeast Arkansas to volunteer. The cadets pour into the lobby, sign in, grab their visitor stickers, and split into their groups without missing a beat. After volunteering more than 2,000 hours of their time, it's no surprise that the cadets have the routine down to a science.
"We started volunteering with the Food Bank in 2018 and for the last four years (with the exception of the COVID shutdown) have volunteered at least one day each month during the school year," said Major Scott Norman, Senior Aerospace Science and Air Force JROTC Instructor at Westside High School.
---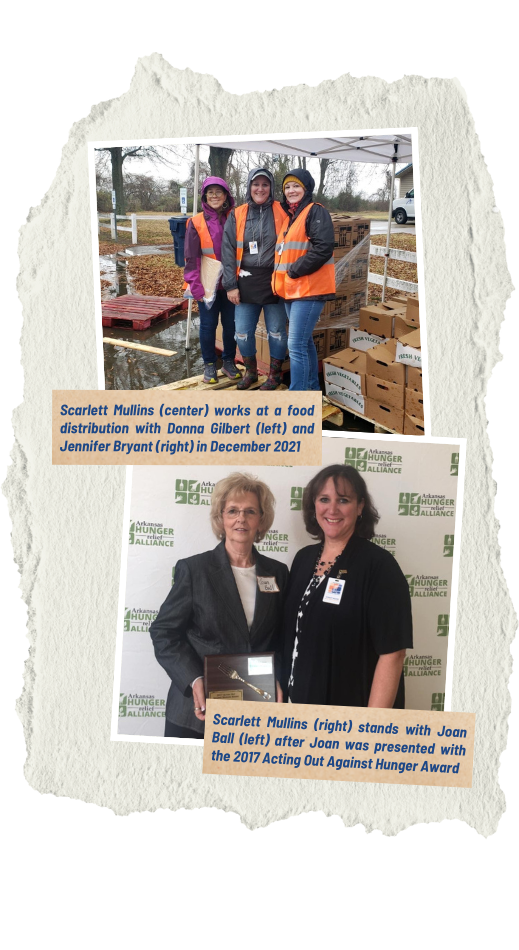 What brought you to the Food Bank of Northeast Arkansas?
At the time I was looking for work that was meaningful but could work part time since I had small children at home.
Favorite part of the job?
I love working with the agencies and being a support to their work. It is great to travel to the 12 counties that we serve and to see a variety of agencies and programs that the Food Bank partners with. As I have transitioned into my new position, it has been great to interact with our neighbors and witness firsthand the impact that a box of food can make, especially to the seniors and children we serve.
Least favorite part of the job?
The paperwork and knowing there are still people that are food insecure.
What has impacted you most since you started working at the Food Bank?
The work that our agencies do day in and day out to help people. Most are elderly volunteers and the heart they have to help those in need is truly remarkable. They do so with very limited resources and they do so because they care.
If you could have dinner with any 5 people, dead or alive, who would it be and why?
Jesus -- He is all knowing and my personal Savior
Roy Mullins -- My father-in-law who was an amazing man and very wise
Kirk Herbstreit -- Celebrity crush
Mother Teresa -- I think her work and compassion for people is amazing
Francine Rivers -- One of my favorite authors