---

Letter from the CEO
Of all the programs we operate at the Food Bank of Northeast Arkansas, my favorite is our Senior Food Pantry Program. When I started working at the Food Bank of Northeast Arkansas in 1997, we had a group of three retired people who volunteered together at the Food Bank every other week. Each member of this group was in their mid-sixties (at least), but none of them considered themselves elderly or senior. This trio of retirees faithfully volunteered to pack food boxes for needy senior citizens. These three individuals had such a profound impact on my life and the work that we do at the Food Bank. They would be so proud to know that we have been able to improve access to food assistance for senior citizens. I am so grateful to have known Helen, Bruce, and Walter.
With Gratitude,

Christie Jordan, CEO
---
Senior hunger has long been a priority for the Food Bank of Northeast Arkansas. After years of struggling to fund a senior food box program that served only 200 people, the Food Bank realized change was needed to meet its goals addressing senior hunger. In 2013, the Food Bank of Northeast Arkansas and the East Arkansas Area Agency on Aging formed an important partnership to reduce food insecurity among senior citizens in Northeast Arkansas. Through this partnership, a network of food pantries was created in Senior Citizens' Centers throughout Northeast Arkansas so senior citizens can access supplemental food.
The Food Bank now serves 1,483 seniors each month.
---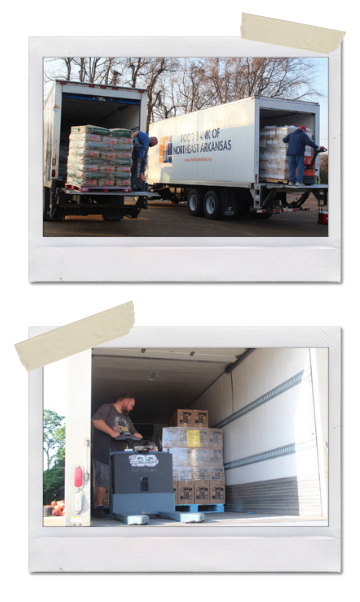 What brought you to the Food Bank of Northeast Arkansas?
I was looking for a job that really impacted my community and the community I formerly lived in (Mississippi County) and when I saw the opening for the Food Bank I immediately applied.
Favorite part of the job?
My favorite part of the job is the friends I've made and the opportunity to help this great group to help the community.
Least favorite part of the job?
My least favorite part is that there is even a need for the Food Bank.
What has impacted you most since you started working at the Food Bank?
The teamwork
If you could have dinner with any 5 people, dead or alive, who would it be and why?
Tom Petty, Keanu Reeves, Clint Eastwood, Stone Cold Steve Austin, and my mom (Jerry LaRue). To see my mom again and to hear some of the stories the others may have.

---
---
Previous Newsletter