JONESBORO, Ark, November 1, 2023 – The Food Bank of Northeast Arkansas announces it received a Summit Cares grant donation totaling $5,000 from Summit Utilities of Arkansas, a subsidiary of Summit Utilities, Inc. Summit's charitable giving program, Summit Cares focuses on non-profit organizations in their service area with interest in human needs, education, community vitality and environmental stewardship.
"At Summit, customers and communities are at the heart of what we do, and the Summit Cares community giving program is one way we strive to enrich the lives of our customers and build lasting, meaningful partnerships with those we serve," said Fred Kirkwood, Chief Customer Experience Officer for Summit. "It's our honor to provide Summit Cares grant funding to these hard-working organizations that enhance the health and well-being of communities throughout our service area."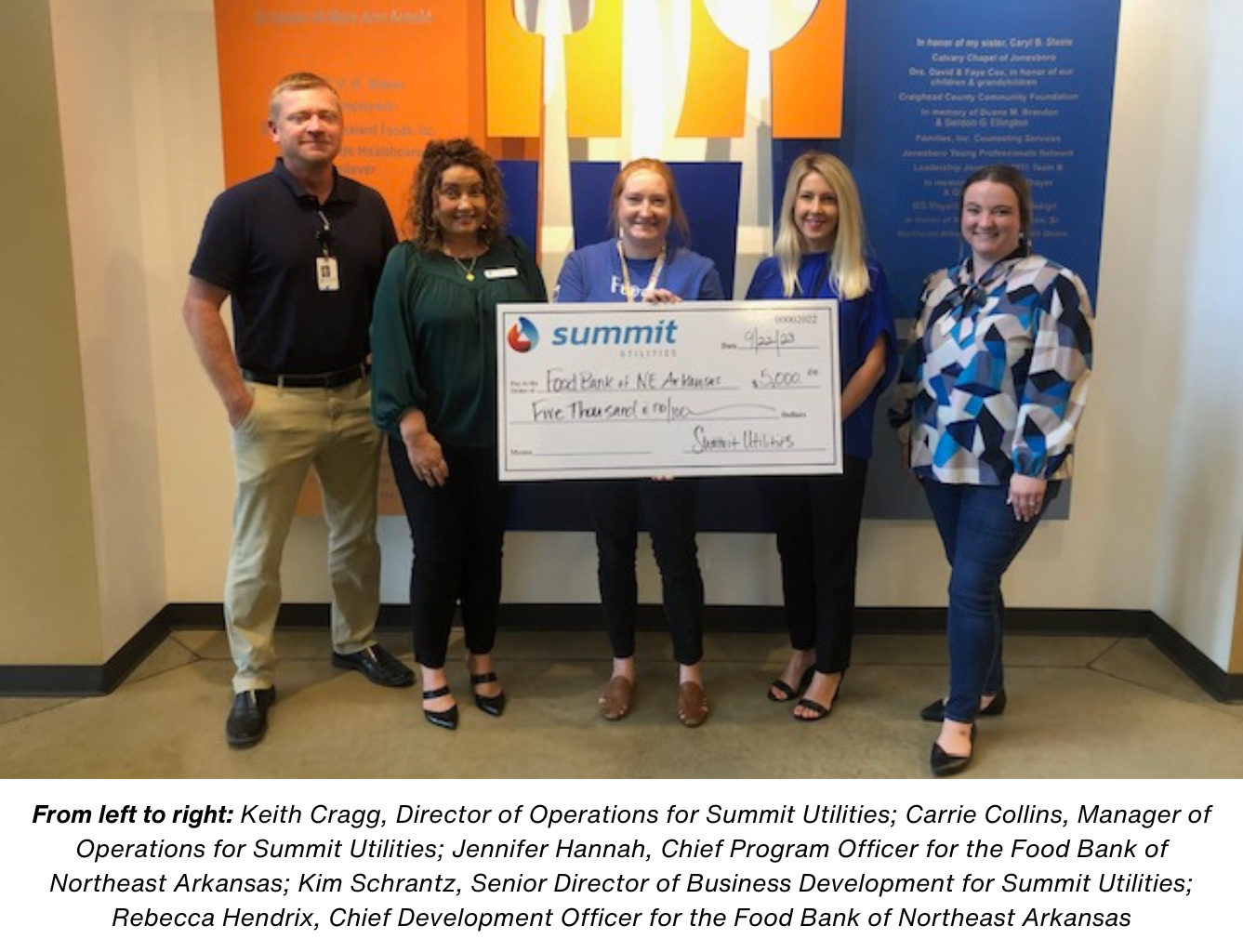 "We are grateful for the support of businesses such as Summit Utilities," said Christie Jordan, Chief Executive Officer for the Food Bank of Northeast Arkansas. "Numerous partnerships like this one enable the Food Bank of Northeast Arkansas to build hunger-free communities." 
The Summit Cares grant funding will be used to purchase food for distribution through the Food Bank's Food Pantry Network which consists of more than 180 agencies including food pantries, soup kitchens, backpack programs, senior food pantries, shelters, and more.
To learn more about Summit Utilities of Arkansas giving program visit https://summitutilities.com/about-summit/community.
About Food Bank of Northeast Arkansas:
The Food Bank of Northeast Arkansas provides hunger relief to people in need by raising awareness, securing resources, and distributing food through a network of non-profit agencies and programs. The Food Bank of Northeast Arkansas provides the equivalent of 132,000 meals each week to people facing hunger. The Food Bank works in partnership with 180 non-profit partner agencies and programs in 12 counties in Northeast Arkansas. These counties include:  Clay, Craighead, Crittenden, Cross, Greene, Jackson, Lawrence, Mississippi, Poinsett, Randolph, St. Francis, and Woodruff. Additionally, the Food Bank of Northeast Arkansas is a member of Feeding America, a national network of food banks. Through our many partnerships, every $1 donated can help provide 3.5 meals. For additional information, please visit our website www.foodbankofnea.org.  You can also find the Food Bank of Northeast Arkansas on Facebook @FoodBankofNEA, Twitter @foodbankofnea, and Instagram @foodbankofnea.